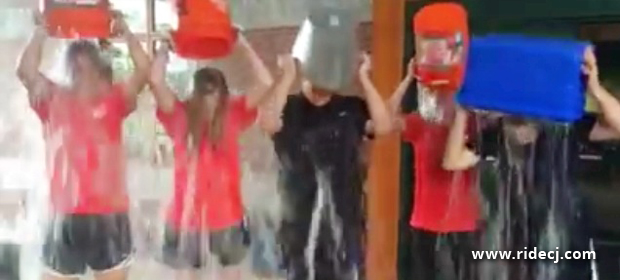 If you have logged onto your facebook account in the last week or so, I'm sure you have all seen an ice bucket challenge or two in your newsfeed. This viral movement is to raise awareness for Amyotrophic lateral sclerosis (ALS) also known as Lou Gehrig's disease. The challenge originating in Boston has made its way up the Seacoast where local businesses have started participating in the awareness and making donations to the ALS Foundation. C&J bus Lines was nominated from our friends next door at Grill 28.
#IceBucketChallenge Accepted!
C&J Owner Jim Jalbert along with the help of Management Staff participated in the challenge by dumping large buckets of ice cold water over their heads in front of passengers waiting for the 11am bus. The challenge didn't stop there; Jim encouraged passengers to help support ALS. For the next two hours (11am-1pm), every 'like' our video received on facebook C&J would donate $1 and $2 for every 'share' to the ALS Foundation.
We are so proud of the out-pour of support we have received! In two hours our video received 435 share and 477 likes, coming to a total donation of $1347 to the ALS Foundation. Thank you to everyone who helped share and raise awareness, we encourage you to do the same! #StrikeoutALS