As we brace ourselves for winter weather for the next few months, it's important to know how snow and ice will impact C&J's operations and schedules. During winter storms, our team closely monitors the road conditions, including traction and visibility. We make every effort to get our riders to their destinations safely and in a timely manner, no matter the weather.
With that said, there are sometimes occasions where snow, slush, and wintery mixes cause road conditions to be unsafe for travel. When these circumstances arise, we take care to alert our riders of any and all service changes. Our team will post updates as storms progress and schedules change.
Stay up-to-date on service alerts
There are a few ways you can do this. First, we will add an announcement to the top of our website (pictured below) with a link to the full service change details.
Note the new alert icon to the right of the main menu—this is where you can access additional information about service changes and weather.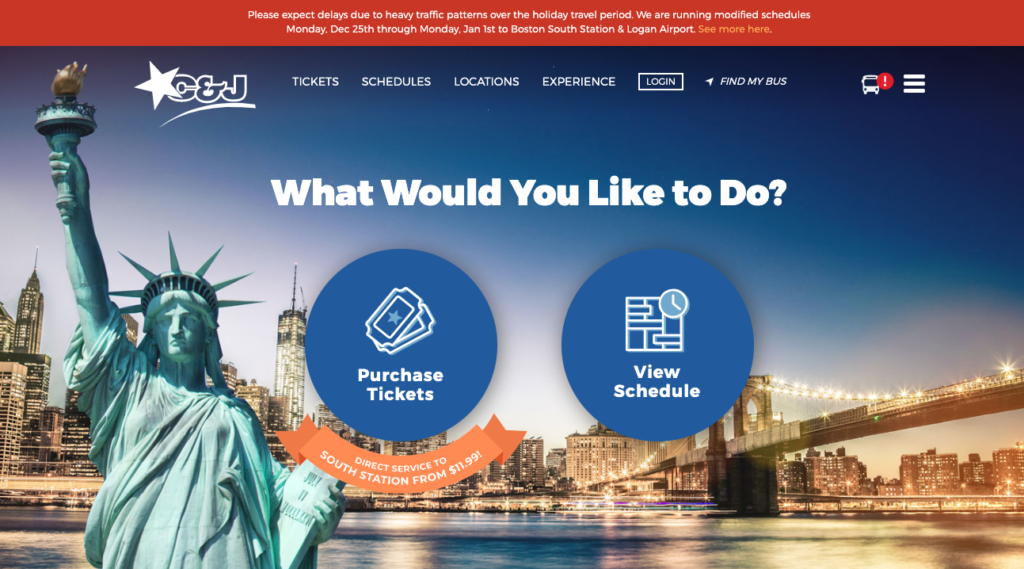 You will also see announcements posted to our social media channels. If you're not following C&J Bus Lines on social media yet, here are a few helpful links to keep you in the loop:
You can also sign up for email alerts sent straight to your phone. This is a great option for frequent travelers and commuters. Or, call our Information Center, which is open 24 hours a day, to get updates and weather predictions from our team.
Plan your winter travel with C&J
We aim to maintain normal service schedules throughout winter storms, but of course safety is always our first priority. When you travel with C&J Bus Lines, you can always rely on us to meet the highest standards for transportation.
Plan your travels with C&J to make sure you still make that crucial meeting, flight, or event, even when it's snowing out. Let our professional drivers handle the weather so you don't have to!