We understand the importance of working while you ride and now we've made that even easier for you!
All of our coaches* now utilize a second Wi-Fi network, giving you more bandwidth and connection while you ride.
Connecting to the Wi-Fi
When you connect your devices, you will now see 2 different network options to on the coach. You can select either Wi-Fi network to connect (Pro-tip: Remember you need to open a browser and accept the terms in order to be able to connect).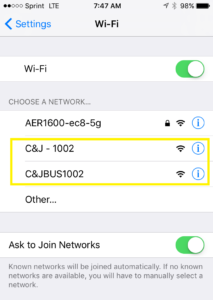 To learn more about the types of service to expect, click here.
Whether you start to see an improvement in our service, or you're still struggling to connect, we invite you to contact us with your comments. We understand the need for a reliable system, and are working diligently to deliver!
As always, thank you for choosing C&J Bus Lines.
*All coaches, excluding 2001, 2002, 2003, 2004 & 2005. These coaches will be replaced in March with new coaches that contain a second network.